Drought. Water is getting really precious out here in the West. The reservoirs are mere mud puddles. The water table is dangerously low. And we're all praying for a solid el niño this winter.
At our house, we have become increasingly mindful. We adhere to the mellow yellow rule, turn off faucets for teeth brushing, and generally try to reuse water whenever possible. We have buckets in our tubs and sinks to catch the water as it warms up, which I use to water potted plants. We've taken out our lawn and filled in our pool. In some ways, reducing water is easy for me because I grew up in Northern California. California is a drought-prone state so I have a deeply ingrained sensitivity to excessive water usage. When I first moved to Southern California I practically cried whenever I saw water just running down the street from a broken sprinkler head.
But on to my pottery studio. My throwing studio is a dry studio, which means that there isn't a handy dandy sink nearby. If I want water, I have to go outside the studio, through the gate, and into the back service yard to use the sink there. That's right: I actually have to plan my water use. It really gets down to four simple steps. Plan. Reduce. Reclaim. Reuse.
I plan everything I am going to do in batches. I throw the same type of clay until I run out. I figure out the kind of glazing I am going to do and then glaze in batches so that I am not having to rinse out too many things.
For throwing, I partially fill a 3-gallon bucket, carry it to my studio, and use it as my water source. There's a very real physical and psychological reality check when one must carry the water one needs.
From that initial bucket of clean water, I dip out what I need into smaller buckets and containers to provide water for throwing slip and other miscellaneous tasks, to wash my tools & bats, for rinsing out towels, and for general cleanup. I usually have a bucket of clean water and a two buckets with filters on top for reclaimed water. Clay particles settle between usages so it works out pretty well. I even use this water when I reclaim clay. My studio is very small so it's important to keep it clean. It's actually small enough that I mostly use a wet towel, even for the floor, that I wring out afterwards over a lucky plant.
I can get a good week of use, sometimes longer if I'm really careful, out of just a couple of gallons. I estimate that I use just 8-12 gallons of water a month in my design & throwing studio, and probably 3-4 additional gallons for misc. glazing, etc .I throw less than 200 pounds of clay a month, so your mileage will vary depending on your production level.
I use the same bucket filtering system when I am processing local clays. It's amazing how much water can be recaptured and reused.
Occasionally, I have to wash a splash pan or something big. I will confess, I no longer clean out my splash pan every time I throw. If it starts getting full, I just dip out the muck. On those rare occasions that I do need to wash it (for example, if I'm switching from throwing white clay to dark), I'm careful to plug the drain in my outdoor sink so that water doesn't just run while I'm washing. If I had enough space for separate wheels for dark and light clays, I don't know that I would ever wash out my splash pan again.
My outdoor service sink actually drains into a filtered bucket system that then flows into my squirrel bed (so named because it contains the squirrel-adorned birdbath that my grandmother Betty had in her front yard in Point Reyes Station for so long). I carved mini channels throughout the bed to direct the water to the plants. And this system has the added benefit of not putting clay into the house pipes or sewage lines.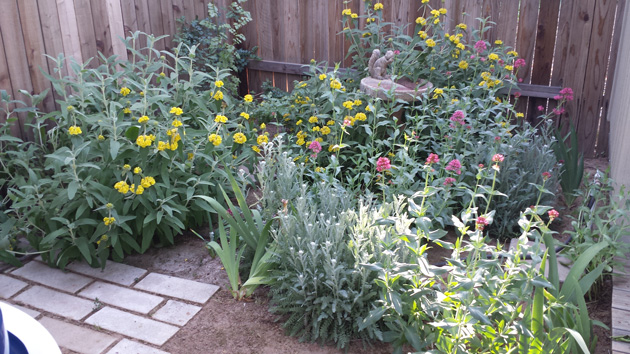 Since I do most of my glazing and firing at AMOCA Ceramic Studio or Ceramic Services, mineral or chemical contamination isn't an issue for my plants and animals. AMOCA has a sophisticated water recycling system, which allows their studio artists to use reclaimed water to wash their tools and equipment. I'll work on another post about AMOCA's water recycling system because it really is very cool.
If you're a potter working in drought conditions, I'd love to hear about your tips for saving water.