About Earth Interrupted
Simply spirited. Handcrafted ceramic goods from a California pottery studio.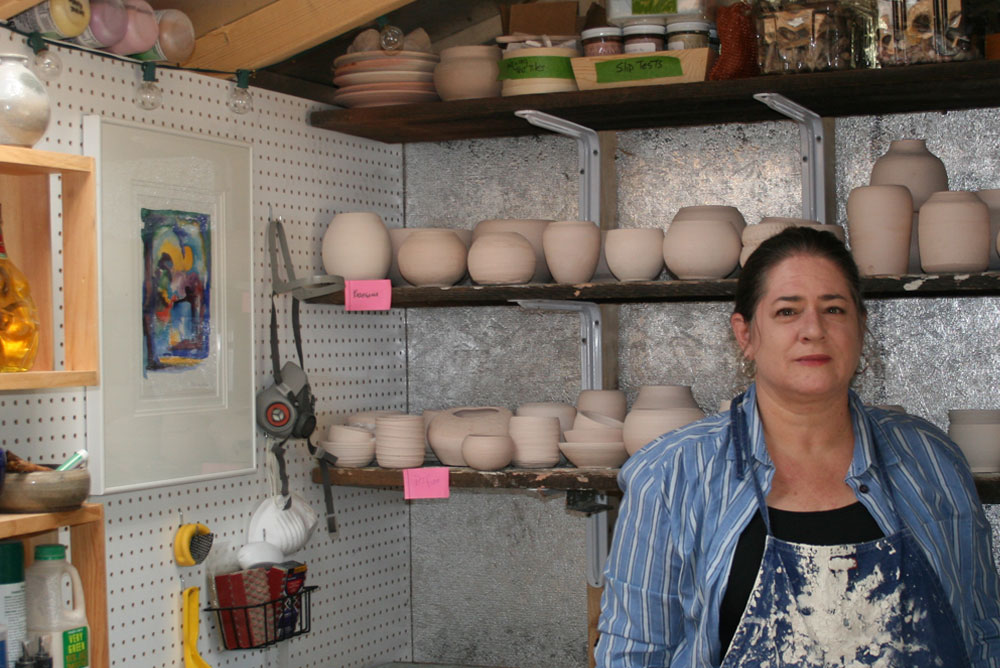 Earth Interrupted is the California Pottery Studio of Kimberli Munkres. Kim designs, makes, and sells simply spirited stoneware pottery that feels good to hold and use. In celebration of her experimental nature, Kim explores old practices such as Obvara (leaven), pit, and raku firing as well as modern cone 10 glazing. On occasion, she will dig, process, shape, and fire local clays for decorative use.
Her wares are available for sale on line and via trunk shows. Gallery inquiries are always welcome.
Contact us
About Kim Munkres
For me, clay is a symbolic language made tangible. It roots my sense of the divine as a shaper of matter, the feminine as a sacred vessel. Each piece represents the poetry of creation, a marker of time, a poem that you can hold in your hand and, hopefully, love forever.
As a Northern California coastal girl, I have been influenced by the environment and values of Pacific Rim potters. I grew up in the 60s—a time when the Arts & Crafts resurgence/back-to-the-land movement collided with the Bauhaus-influenced, mid-century modern aesthetic. This combination inspires my leaning toward organic, simple design.
I am a studio potter who recently returned to clay after a long hiatus. I have made my living in strategic communications, working with nonprofits and institutions of higher education. But I missed the mud, the potter's wheel, and the fire, and I am delighted to be back.
It's been said that everything you own should either be useful or make you deeply happy. That's why most of my work is usable in the home, garden, or office. I hope it brings you joy.
Memberships
American Museum of Ceramic Art
Study
May 11-16, 2015
Summer Ceramic Workshop with Raul Acero, University of Redlands, Redlands, CA
May 9, 2015
Glaze Intensive: The In's and Out's of Stains with Jillian O'Dwyer, American Museum of Ceramic Art, Pomona, CA
April 25, 2015
Glaze Intensive: Into the Depths with Mary Beierle, American Museum of Ceramic Art, Pomona, CA
March 31 – May 28, 2015
AMOCA Wheel Throwing Class with Adrian Sandstrom, American Museum of Ceramic Art, Pomona, CA
March 20–22, 2015
Working with Local Clay with Mitch Iburg, Mendocino Art Center, Mendocino, CA
May 12-17, 2014
Summer Ceramic Workshop with Raul Acero, University of Redlands, Redlands, CA
1993
Spring Raku Firing with Randy Snyder
1992-1994
Community Clay Studio Class with Chris Boyd, Rohnert Park, CA